Beginning Tuesday, April 6, 2021, the Catholic Historical Research Center will reopen to the public.
 If you want to come to the archives to do research, please contact us either at archives@chrc-phila.org or at (215) 904-8149.
Our staff will continue to serve patrons remotely by responding to emailed requests sent to archives@chrc-phila.org or via mail:
Catholic Historical Research Center
6719 Calvert Street
Philadelphia, PA 19149
Please allow up to 1-2 weeks for a response for research requests sent by US Mail.
We will continue to monitor the current health situation and update our patrons accordingly.
Digital Exhibit
Philly in Focus:
Robert Halvey's Photographic History of Catholic Philadelphia
CHRC holds one of the largest collections of
Catholic newspapers in the United States.
CHRC has numerous images of churches, religious persons, events, and places relating to the history of the Archdiocese.
The Manuscript Collection includes records of all of the bishops and archbishops of Philadelphia up to the present. The Manuscript Collection of the American Catholic Historical Society (ACHS) includes the papers of prominent Catholic clergy, laity, and institutions.
Stay connected as we highlight and explore
a different piece of our collection in each post.
Welcome to the Catholic Historical Research Center of the Archdiocese of Philadelphia.
The purpose of the Catholic Historical Research Center (CHRC) is to collect, preserve, and make available for research the official records of the Archdiocese of Philadelphia and those ancillary records and items that reflect the growth and development of Catholicism within the Archdiocese in accordance with the approved Collection Access Policy.
---
NEWS
Catholic Heritage Archive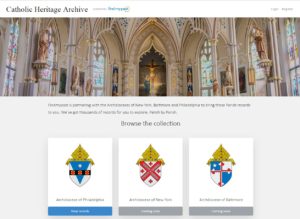 Check out this great new resource powered by FindMyPast! The Catholic Heritage Archive is a digital archives containing thousands of parish records! You can flip through the marriage and baptismal records for each of the Archdiocese's parishes and best of all its FREE to use!
https://www.catholicheritagearchive.com/
New Digital Resources Available!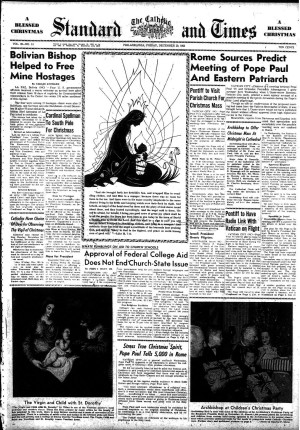 CHRC joined with FindMyPast to make historical parish baptismal and marriage records available to the public. Pre-1919 records are on-line and can be searched and downloaded.  Also available are the Philadelphia Roman Catholic Diocesan Newspapers, from 1833-Sept. 28, 1951 with some gaps when either issues were missing or a newspaper was not published. Click here for information about Catholic newspapers in Philadelphia. 
All the records are indexed and keyword searchable. The search is free; however, to view the records a subscription to Findmypast is required.