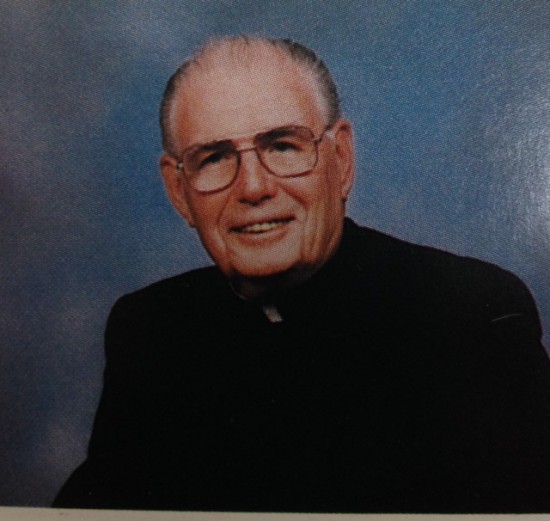 Monsignor Charles Monaghan, the oldest priest in the Archdiocese of Philadelphia, turned 100 on March 31, 2015. In a 2007 taped interview, Msgr. Monaghan spoke of his earliest desire to be a priest, which came in the form of bells at Ascension of Our Lord Church.  Click the link below to listen to him describe this memory, or read the excerpt below.
And I remember going into the church and being there for the whole Mass. Now she had to carry my brother in her arms and my sister just about walking, and I was about 4 years old. 4-1/2, 4 years, and I remember seeing a priest, and I remember the Mass itself, very quiet, there weren't that many people in church. This was the basement of the present church, and when it was all over, I said to my mother I'm gonna be a priest. And she says "How can you figure that out?" and I says "well, did you notice that the priest, when he put his knee on the ground a bell rang, and when he raised his hand, another bell? And I said I would like to do that."
Msgr. Monahan was quoted in an April 14, 2015 article in The Philadelphia Inquirer as saying "I'm totally inactive, except for my prayers." He mentioned in a 2007 taped interview that learning to improve prayer life is a key challenge facing Catholics today, especially children. He said that if we want to be Christians, if we want Christ living in us, we have to learn from Him, and His devotion to his own father.  Click the link below to listen to his thoughts on prayer, or read the except below.
We have to learn how to say prayers together. But we have to learn how to say the prayers individually, and hungrily. When children have problems we have to teach them to kneel down first and say their prayers. We want them to learn to find answers through prayer. Through prayer – I think prayer, and the teaching of prayer, and allowing a child to grow into the need for prayer, and to find out that in their needs, prayer comes first. Prayer comes first. You have to get a closer relationship with our divine Lord Himself, and that has to come through prayer and the sacraments. That's the beginning, anyway.