Over the summer, I served as a volunteer mainly working with PAHRC's collection of parish calendars. My task was to catalog the calendars into PastPerfect so that the collection could be accessible to researchers online. In all, the collection contains calendars for over three hundred parishes. The date range for most is from about 1920 to 1955. Most of the calendars are those from parishes currently located within the Archdiocese of Philadelphia.  Others are from parishes located in surrounding dioceses as well as from parishes located throughout the country.
The Parish Calendars are similar to current parish bulletins in that they contain such information as parish events as well as marriage and death announcements. Unlike the weekly bulletins, however, the calendars were printed monthly and include much more content. They provide parish history information, including reprinted articles or excerpts from the diocesan newspaper The Catholic Standard and Times that covered prominent events such as the dedication of a church or an anniversary celebration of the founding of a parish. They also have articles on various topics that were reprinted from notable Catholic newspapers throughout the country as well as editorials concerning proper Catholic behavior.
Parish calendars can prove useful for researchers interested in the history of a parish or even for those conducting genealogical research. For social and cultural historians, they offer a glimpse into parish, and more broadly, Catholic life during the first half of the 20th century.
As someone with an interest in film, I actually came across some intriguing  film history finds finds while going through this collection.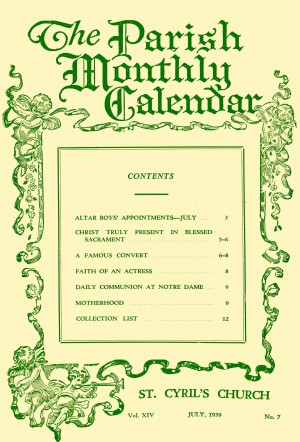 This  article entitled "Faith of an Actress" is from St. Cyril's (East Lansdowne, Pa.) Parish Monthly Calendar dating from July of 1939. The article is about a Catholic actress named Elinor Flynn who was in movies during the late 1920s and 1930s. Although the article says Flynn appeared in 39 films, she only has 5 credits on IMDB. I am guessing that this is because most of her movie roles were as bit parts that were uncredited. Flynn also did work on Broadway and radio. Sadly, Flynn died at the age of 28 in an automobile accident.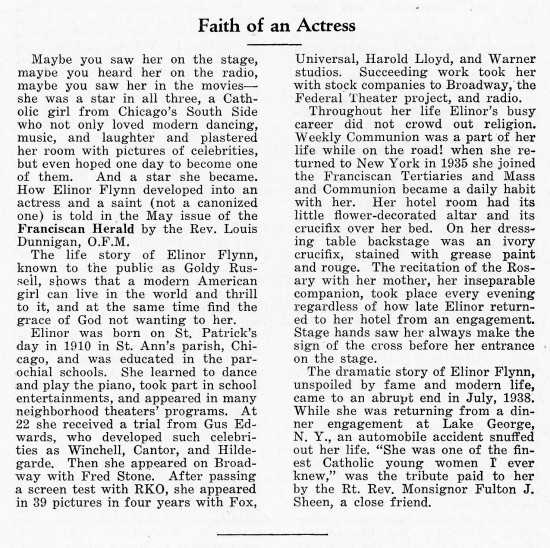 The article praises Flynn not only for her career, but also for her strong Catholic faith. Flynn is noted for saying the rosary every evening as well as making the sign of the cross before she went on stage. The article tells us that Flynn was a close friend of Rt. Rev. Monsignor Fulton J. Sheen, better known as Archbishop Sheen. Yes, this is the same Sheen who became famous as one of the first televangelists. His television show Life is Worth Living ran from 1951 through 1957 and drew tens of millions of viewers each week.
This article, entitled "A Generous Non-Catholic",  appeared in St. Joseph Church's (Downingtown, Pa.) Feb. 1927 monthly parish calendar. The piece praises American actor James K. Hackett for entertaining the troops in WWI. Hackett was ineligible to fight in the war due to a knee injury he sustained while performing in Macbeth (as the title character) on stage. Although Hackett was not a Catholic himself, this Catholic publication was impressed that he helped the Knights of Columbus and supported the troops by entertaining them. The article also serves as an obituary since it informs us that Hackett died in Paris on November 8th, 1926 at the age of 57.
The article is noteworthy for its praise of a non-Catholic at a time when anti-Catholic sentiment was commonplace. Hackett was able to put religious differences aside to work with Catholics and entertain the troops, which the tone of the article seems to imply did not happen too often back then. Hackett is virtually unknown in 2011, but he was certainly a popular actor in his day and still remains an interesting historical figure.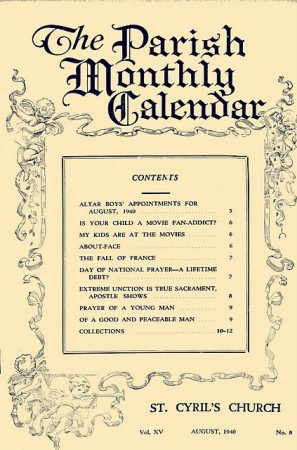 There are two related articles within this August 1940 calendar on the topic of children watching movies. Both articles are fascinating as they show that children were a large demographic of the movie-going public in 1940. I've heard some people say that movie audiences are younger in 2011 than ever before, but I'd like to see some data to back that up. The first article not only says kids see a lot of movies, but that they are going by themselves without parents/families.
Where the first article brings up religion and morals, the second article is secular as it is about a doctor discussing the effects of movies on children. The doctor says that constant movie watching may cause youngster to be high strung and want to be "always on the go."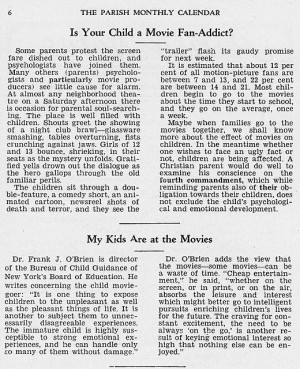 While I didn't have time to go through each page of these calendars, another parish that stood out was Church of the Holy Infancy in Bethlehem, Pa. which showed "motion pictures" each Sunday in a parish building. Here is the first article announcing the showing of these movies from October, 1926.