In late 1879, James Redpath looking for a project that would both interest him and provide a living. For 25 years Redpath had a varied career as an abolitionist, reporter, publisher, lobbyist, superintendent of schools in the reconstruction south, social activist and entertainment mogul. Redpath had sold his Lyceum booking agency several years earlier and was recuperating from an accident. He proposed to The New York Tribune that they send him to Ireland where he could regain his health while reporting on social conditions in that country.
Though born in Scotland, Redpath became interested in uncovering the causes of the famine that had swept Ireland in the late 1870's. The Tribune agreed to his proposal and during 1880 and 1881, Redpath made three trips to Ireland, sponsored in part by The Tribune and The Boston Pilot, to ascertain the causes of the famine. While in Ireland, he became a supporter of Charles Stewart Parnell and the Irish Land League, and a staunch opponent of the landlord system that kept the Irish people in poverty.
During these years, Redpath wrote numerous articles and delivered lectures throughout the United States supporting the cause of Irish land reform and, eventually, Irish freedom.
Reacting to the pro-English stance of most American newspapers concerning Ireland, in July 1882 Redpath bought the New York based newspaper McGee's Illustrated Weekly from its publisher, Maurice Francis Egan and determined to make it a vehicle to support land reform in Ireland and promote Irish independence.
The first issue of the newly named Redpath's McGee's Illustrated Weekly appeared July 22, 1882.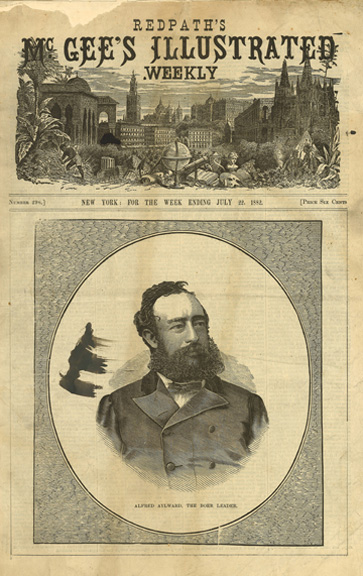 Redpath's editorial comments in the first issue clearly declared the pro-Irish temper of the paper:
"I shall try to make this journal an interpreter between American and Irish friends of liberty. As soon as Americans know the true story of Ireland they will support her in every wise effort to overthrow the despotic rule of England."
By the third issue, published on August 5, 1882, Redpath had deemed the title too confusing and shortened it to Redpath's Illustrated Weekly. Though founded as an activist newspaper devoted to the cause of reform in Ireland, the paper also covered Irish culture in general with sections such as "Pictures of Irish Life" and illustrations of prominent Irishmen, Irish-Americans and "friends of Ireland."
Redpath's opposition to English rule in Ireland and the large Anglo-Irish landlords he saw as responsible for Ireland's misfortune branched into other articles in his newspaper such as anti-landlordism in New York City and opposition to English imperialism in Egypt. The paper also supported other social causes such as women's suffrage, civil service reform and the labor movement.
Redpath also realized that a newspaper devoted primarily to Ireland and social reform may have  limited appeal, so he tried to broaden its readership by including humorous pieces, domestic and foreign news blurbs, sheet music, poems and serialized novels. At times the paper also included a Boys and Girls Department and a Ladies Department.
Changing financial circumstances and lack of interest in Ireland and social issues caused gradual changes in the newspaper's format and content. With the February 24, 1883 issue, the name of the newspaper was shortened further to Redpath's Weekly. This reflected the reduction in the number of illustrations due to rising publication costs.
By August 1883, the paper had become more literary and less a vehicle for Irish freedom and social activism with more space devoted to serialized fiction, including French and Russian works translated by associate editor, Jeremiah C. Curtin. Included were perhaps the earliest serializations of stories by Jules Verne. These changes, however, were not enough to save the paper and the last issue of Redpath's Weekly was published on August 23, 1884.
PAHRC has the most complete run of Redpath's Illustrated Weekly.
The paper has also been digitized as part the Digital Library @ Villanova University. To view the digitized issues click here.
References:
McKivigan, John. Forgotten Firebrand: James Redpath and the Making of Nineteenth Century America. Cornell University Press, Ithaca and London. 2008.