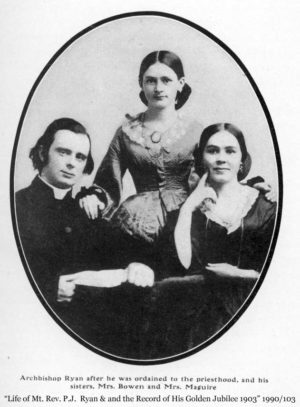 135 years ago on July 8th, 1884, Patrick John Ryan was appointed as the new Archbishop of Philadelphia. Ryan replaced Archbishop Wood who had passed away a year prior.
Patrick Ryan was born in Thurles, Ireland on February 20, 1831.[1] His father would pass away when he was nine and his mother when he was 20. Ryan would leave Ireland in 1852 after studying to become a priest at the St. Patrick Seminary. He was not ordained because at 21 he was deemed too young be a priest despite finishing all his courses.[2]
When he arrived in America, he quickly made his way to St. Louis, Missouri, and he would be eventually joined by his sisters and brother. After presenting himself to Archbishop Peter Kenrick, Ryan was ordained in 1853.[3] Father Ryan would spend the next 30 years in the Archdiocese of St. Louis, being made a pastor in 1860 and serving as a chaplain for Confederate prisoners during the Civil War.[4]  In the years to come he would be named Bishop of Tricomia in 1872 and Archbishop of Salimina in 1883. Both of these were titular sees which are former dioceses that no longer function. These titles were given to Ryan as he was Vicar General of St. Louis and handled the administration of the archdiocese when Kenrick was in Rome for the First Vatican Council.[5] Contemporaries of Ryan were always quick to note his great wit and skills as an orator.[6]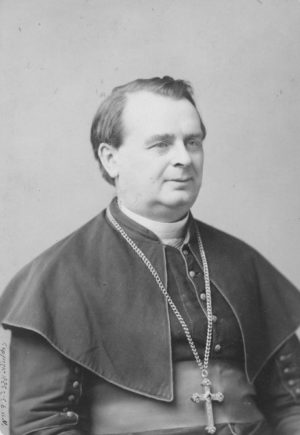 When Ryan was appointed as Archbishop of Philadelphia in 1884, there were 300,000 Catholics in the archdiocese. Over his 27 years in charge, Ryan would build 170 churches, 82 schools, and saw the Catholic population increase to 525,000.[7] A major focus of Ryan's time in Philadelphia was his dedication to expanding the parochial school system started by Bishop Neuman. This could be seen when he opened Roman Catholic High School in 1890, the first free Catholic high school for boys in the country. At the dedication, Archbishop Ryan made his position on the importance of education clear when he stated, "religious education is intended to make better men and better citizens."[8] Furthermore, Ryan even made it a rule for new parishes that a school had to be built before construction on the church could begin.[9] This was because Ryan believed without a strong base of Catholic education, the parish's future would not be sustainable.
Archbishop Ryan was also active in expanding ministry work for the marginalized. He opened a number of institutions, including, St. Joseph's House for Homeless Industrious Boys and the Philadelphia Protectory for Boys (now St. Gabriel's Hall) in 1888 and 1895, respectively.[10] Ryan was also active in labor relations, working on a number of occasions as a mediator before management and labor unions to bring about peace resolutions. The most notable was the city's trolley car strike in 1885-1886. Ryan, serving as chairman of the negotiating committee, helped broker a deal which included a 10 hour work day and the right to unionize.[11] He also focused on serving minorities in the community by serving on the Board of Indian Commissioners (appointed by President Theodore Roosevelt) and opening the first African-American parish, St. Peter's Claver.[12]  His work with the underserved could be seen most clearly in his connections with Saint Katharine Drexel. After the death of Bishop O'Connor, Ryan became Drexel's spiritual advisor. It was Ryan's suggest that Drexel named the order the Sisters of the Blessed Sacrament for Indians and Colored People.[13] Furthermore, it was through the guidance of Ryan that Mother Katharine wrote the rule for her new order.
Ryan would serve as Archbishop of Philadelphia for 27 years until his death on February 11, 1911. Before his funeral, his body lay in state at the Cathedral Basilica of Ss. Peter and Paul were over 100,000 people came to pay their respects.[14] As we remember the 135th anniversary of Ryan's appointment, it is clear that he left his mark on the development of Catholicism in the United States as well as a lasting legacy on the history of Philadelphia.
[1] 100,000 Pass His Bier: Imposing Obsequies, Catholic Standard and Times, February 18, 1911
[1] Patrick Ryan, Archbishop Patrick John Ryan: His Life and Times, Ireland - St. Louis – Philadelphia, 1831-1911,  Author House, 2010), 20.
[2] Joseph Kirlin, Life of Most Rev. P.J. Ryan D.D., LL.D. Archbishop of Philadelphia and the Record of His Golden Jubilee, (Philadelphia: Gibbons Publishing Company, 1903), 8.
[3] R. F. Cowley, The Episcopal Silver Jubilee of the Most Reverend Patrick John Ryan, D.D., LL.D. Archbishop of Philadelphia, (Philadelphia: St. Dominic's Rectory, 1897), 215.
[4] Cowley, Silver Jubilee, 215.
[5] Kirlin, Golden Jubilee, 12.
[6] Kirlin, Golden Jubilee, 32 & 34.
[7] Ryan, His Life and Times, 172
[8] "Dedication of The Roman Catholic High School," The Catholic Standard, Philadelphia, 09/13/1890
[9] Kirlin, Golden Jubilee, 23.
[10] Cowley, Silver Jubilee, 237.
[11] Shawn Weldon, 100 Years Ago: Archbishop Ray Averted Strike, Catholic Standard and Times, December 14, 1995.
[12] Ryan, His Life and Times, 240 & 252
[13] Letter to Katharine Drexel from Archbishop Ryan, 09/23/1890, Sisters of the Blessed Sacrament Collection, H10B, Box 48, F2.
[14] 100,000 Pass His Bier: Imposing Obsequies, Catholic Standard and Times, February 18, 1911