This spring, we welcomed seventh and eighth students from the AOP schools for an interactive learning experience at the CHRC! Funded entirely by The Archdiocesan Educational Fund, the grant entitled, To Touch a Saint: Creating a Place for Middle School Students, brought students, staff, and chaperones to the CHRC for a two-hour plus+ program.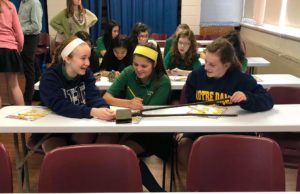 Through April and May of 2019, the CHRC, located in Northeast Philadelphia in the former Our Lady of Ransom School, had 572 seventh and eighth grade students visit. This number does not include the teachers, principals, or priests that accompanied them. During their visit, they had an interactive and hands on learning experience, toured the facility, met our Archivists, viewed current exhibits, and saw archival collections. Students also learned about their own Catholic history and parish through a learning session in a newly equipped classroom. Following the tour and classroom session, the students identified and handled artifacts from the Archives such as a chaplain's kit from World War I, 19th century religious candy molds, and more. It is rare that an archive or historical center would allow patrons to actually touch and handle items from the collections, and the students thoroughly enjoyed this opportunity!
Additionally while at the CHRC, the students completed a scavenger hunt with the chance to win a prize. The scavenger hunt was comprised of 14 questions/items and included items like finding the oldest object on display, identifying what an archivist is, or naming an example of a primary source they saw. The students learned how to also use Find My Past and each visit was tailored to the school and parish, with historical photos, related facts, and trivia. Every student and staff/chaperone received a brochure that detailed how to use the Archives, Find My Past, and were all invited to contact the staff for research help and/or return to the CHRC.
The Archdiocesan Educational Fund awarded the CHRC with a grant in the amount of $31,196 for the 2018/2019 academic/fiscal year. The grant, To Touch a Saint: Creating a Place for Middle School Students, funded a Catholic archival learning program for seventh & eighth grade students. Matthew H. McCloskey, Jr. (1893-1973), building contractor and U.S. Ambassador to Ireland (1962-1964), created and funded the Wayne-based private foundation in 1967. The Arch-Ed Fund supports Catholic education and Catholic ministry throughout the Archdiocese of Philadelphia.