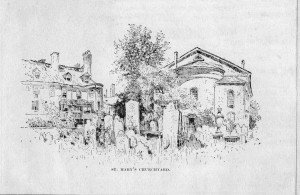 Old St. Mary's traces its history to 1763, when a second church was needed for the growing number of Catholics in the city. Built on land originally bought to serve as a cemetery for Old St. Joseph's, Old St. Mary's was referred to as "Mission Number 1" as St. Joseph's was seen as the principal place of worship. The church was originally 50 feet by 80 feet and the entrance was through 5th street. Both George Washington and John Adams attended Vespers there in October of 1774. On September 13, 1788, the Pennsylvania Legislator passed an act incorporating the new trustees of St. Mary's.
When Philadelphia was made a diocese in 1808 there were only four Catholic Churches in the city: Old St. Joseph's, Old St. Mary's, Holy Trinity, and St. Augustine. Of the four, Old St. Mary's was selected to be the first Catholic Cathedral of the diocese. Due to this, work soon began to increase the size of the church so that 36 new pews could be added. The trustee minutes declared that "our funds are unequal to such an undertaking" so a subscription was started to raise funds for the enlargement, which brought in $17,000. However, the cost of the work came to $30,000 and by 1812 the church was still over $5000 in debt. This shortfall in funds would lead to most of the problems facing Old St. Mary's and set it on a collision course with its first three bishops.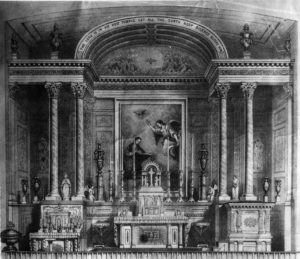 As the church struggled to raise money, the trustees attempted to lower the salaries of Bishop Egan and other priests working at St. Mary's. This created a massive conflict, leading to the two sides publishing a series of pamphlets attacking the other and both groups writing to Archbishop Carroll of Baltimore to intervene. The problems would increase when Egan removed two priests from the church as they were favorites among the laity. Following Egan's death, the conflict between the trustees and the bishops over who had authority to appoint priests to a church would continue into Bishop Conwell's tenure. The Hogan schism under Conwell was such a problem that the issue would go all the way to the Pope to be resolved in 1822.
Nevertheless, when Bishop Kenrick (then coadjutor bishop) appointed himself as pastor of St. Mary in 1831, the trustees refused. In response, Kenrick suspended all religious services at the church until the trustees backed down a month later. Due to all these issues, Kenrick sought to move the cathedral to a new church. Finally in 1838, Kenrick designated St. John the Evangelist as the new pro-Cathedral. Despite the rocky relationship between the trustees and the bishops, Old St. Mary's served as vital role in the history of the archdiocese as its first cathedral.