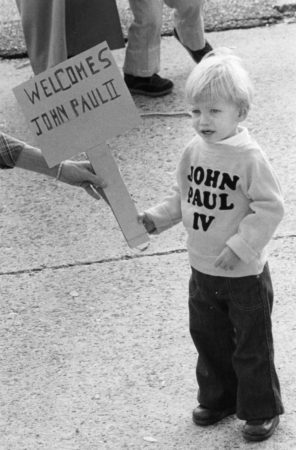 For over sixty years, Robert Halvey served as a freelance photographer for the Catholic Standard and Times. His career as a photographer began in the 1930's, while attending Roman Catholic High School taking photos for the school newspaper. He served as a U.S. Army Photographer during World War II, for which he received the Legion of Merit, a military award of the United States Armed Forces that is given for exceptionally meritorious conduct in the performance of outstanding services and achievements.​ Halvey later went on to become a staff photographer for Pennsylvania Hospital.
The Robert Halvey Collection contains approximately 350,000 negatives from the entirety of Halvey's career, covering the years 1935 to 1999. These images capture everyday participants in Philadelphia Catholic life, as well as presidents, popes, and entertainers. In addition to photographs taken for The Catholic Standard and Times, there are also photos taken for Catholic institutions, organizations, parishes and schools.
Due to Halvey's long and prolific career, the Catholic Historical Research Center of the Archdiocese of Philadelphia holds half a century of Catholic Philadelphia history, especially moments of major celebrations and events. Examining these milestone moments through the decades reveals the history of both the city and the religious life within it. As Robert Halvey's motto said "Today's Pictures- Tomorrow's History."
Use the menu sidebar to the right or the arrows at the bottom to move through the exhibit.
CREDITS
Patrick Shank, Assistant Archivist